15 avril 2010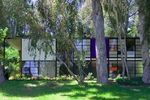 Initially designed jointly by Charles Eames and Eero Saarinen, the house was substantially modified during the construction process by Eames and his wife Ray, an artist and designer, to maximize its spatial area.
The final design consists of two adjacent double-height pavillons: one used as a residence and one as a studio/workshop space. Demonstrating the possibilities of technologically based construction methods and materials, it is built entirely of industrial, prefabricated components including steel, glass, asbestos, and Cemesto board according to a modular system. The building's rectilinear character and structural assertiveness are enlivened by the use of a variety of textures, colors, and materials orchestrated by Ray Eames.
Although conceived to be prototypical, it is a highly personal reflection of the seamless coexistence of work and leisure characteristic of these prominent American designers unique way of life.
Commentaires sur CSH#8