02 avril 2010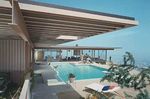 The Case Study House program, initiated by John Entenza of Arts & Architecture magazine in 1945 in Los Angeles, remains one of America's most significant contributions to architecture at mid-century.
Conceived as low-cost, experimental modern prototypes, the thirty-six designs of the program epitomized the aspirations of a generation of modern architects active during the buoyant years of America's post-World War II building boom. By its end in 1966, despite the fact that many of the early designs were not built and few, if any, of the houses had served their intended function as replicable prototypes, the Case Study House program had succeeded in producing some of the period's most important works of residential architecture.
Today, the Case Study Houses continue to have wide relevance and influence within architectural culture, not only in Los Angeles, but also nationally and internationally. These houses, and the spirit behind them, serve as a model for architects committed to reductive, yet experimental, modes of residential design and construction.
15 avril 2010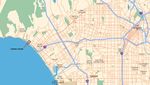 The House is located at 203 Chautauqua Blvd. in Pacific Palisades CA 90272.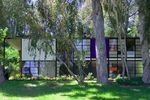 Initially designed jointly by Charles Eames and Eero Saarinen, the house was substantially modified during the construction process by Eames and his wife Ray, an artist and designer, to maximize its spatial area.
The final design consists of two adjacent double-height pavillons: one used as a residence and one as a studio/workshop space. Demonstrating the possibilities of technologically based construction methods and materials, it is built entirely of industrial, prefabricated components including steel, glass, asbestos, and Cemesto board according to a modular system. The building's rectilinear character and structural assertiveness are enlivened by the use of a variety of textures, colors, and materials orchestrated by Ray Eames.
Although conceived to be prototypical, it is a highly personal reflection of the seamless coexistence of work and leisure characteristic of these prominent American designers unique way of life.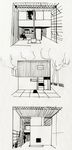 In this house activities will be of a more general nature to be shared with more people and more things. It will also be used as a returning place for relaxation and recreation through reading and music and work: a place of reviving and refiling, a place to be alone for preparation of work, and with matters and concerns of personal choosing. A place for the kind of relaxed privacy necessary for the development and preparation of ideas to be continued in professional work centers.
The occupant will need space used elastically where many or few people can be accommodated within the areas appropriate to such needs. Intimate conversation, groups in discussion, the use of a projection machine for amusement and education, and facilities for self-indulgent hobbies, cooking and the entertainment of very close friends.